Vincent van Gogh
The contemporary apartment with private conservatory and garden access is centrally located at the picturesque Keizersgracht canal, close to the city's Art District in the heart of historic Amsterdam.
This cosy first floor apartment (50 m2) offers a view onto beautiful private gardens, which are reached through a small, private conservatory. Décor in this one bedroom apartment features primarily natural tones punctuated by the vibrant colours Vincent van Gogh is best known for. A large bay window with leaded glass detailing illuminates a spacious living room offering all the comforts of home. A fully equipped open kitchen provides the facilities to dine and entertain in style.
Surface: 50 m2
Facilities
Kettle
Hob
Coffee machine
Microwave
Fridge / Freezer
Shower
Hairdryer
Iron
TV flatscreen
DVD
Toaster
Dishwasher
Washing machine / Dryer
Services
Free Wifi
Free fresh towel
Free fresh linen
Weekly cleaning of the apartment after 7 nights is free.
Extra
Public parking
Garden access
An additional cleaning of the apartment on request is € 50, –
Low Season
Jan 5 – April 15
September 16 – December 22
Mid Season
April 16 – 30 April
May 16 – September 15
High Season
May 1 – May 15
December 23 – January 4

More informations on Master Vincent van Gogh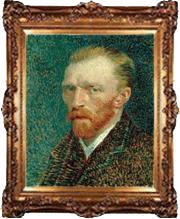 (1450 – 1516)
Post-impressionist Dutch painter Vincent van Gogh is generally regarded as one of the greatest painters in the history of European art. After completing a study at the Dutch Royal Academy of Art, he moved to Paris, where he developed his trademark style and use of vivid colours.
Today, Van Gogh is as well known for his artwork as he is for his turbulent life: he was repeatedly in and out of sanatoriums, and famously cut off a portion of his ear while sharing a house with French painter Paul Gauguin. He ultimately committed suicide at the age of 37.

Gallery
Subscribe to our newsletter and receive a 5% discount on your booking