Rembrandt van Rijn
The stylish apartment is centrally located at the beautiful Keizersgracht canal, close to the city's Art District in the heart of historic Amsterdam.
This second floor apartment, tastefully themed on the Rembrandt van Rijn's work, provides a stunning view onto one of Amsterdam's most picturesque canals. Large windows and classic wooden floors feature in this warm and stylishly decorated apartment (75 m2). A fully equipped open kitchen with facilities to dine and entertain in style, and spacious living and sleeping areas provide all the comforts of home.
Surface: 75 m2
Facilities
Kettle
Hob
Coffee machine
Microwave
Fridge / Freezer
Shower
Hairdryer
Iron
TV flatscreen
DVD
Toaster
Dishwasher
Washing machine / Dryer
Services
Free Wifi
Free fresh towel
Free fresh linen
Weekly cleaning of the apartment after 7 nights is free.
Extra
Public parking
Canal view
An additional cleaning of the apartment on request is € 50, –
Low Season
Jan 5 – April 15
September 16 – December 22
Mid Season
April 16 – 30 April
May 16 – September 15
High Season
May 1 – May 15
December 23 – January 4
More informations on Master Rembrandt van Rijn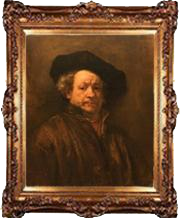 (1606 – 1669)
Rembrandt van Rijn is generally regarded as the most important Dutch Golden Age painter. The Night Watch and The Jewish Bride are among his best known works, and exhibitioned in Amsterdam's Rijksmuseum.
Rembrandt's paintings are characterised by his dramatic use of chiaroscuro (sharply contrasting light and dark), and his informal societal compositions. Despite enormous popularity as a painter, he lived beyond his means and in the 1650s declared bankruptcy. On his death, he was buried in an unmarked grave in Amsterdam's Westerkerk.
Subscribe to our newsletter and receive a 5% discount on your booking